25Aug22:30FeaturedGREEN KOMM 25th Anniversary Double NIGHTKöln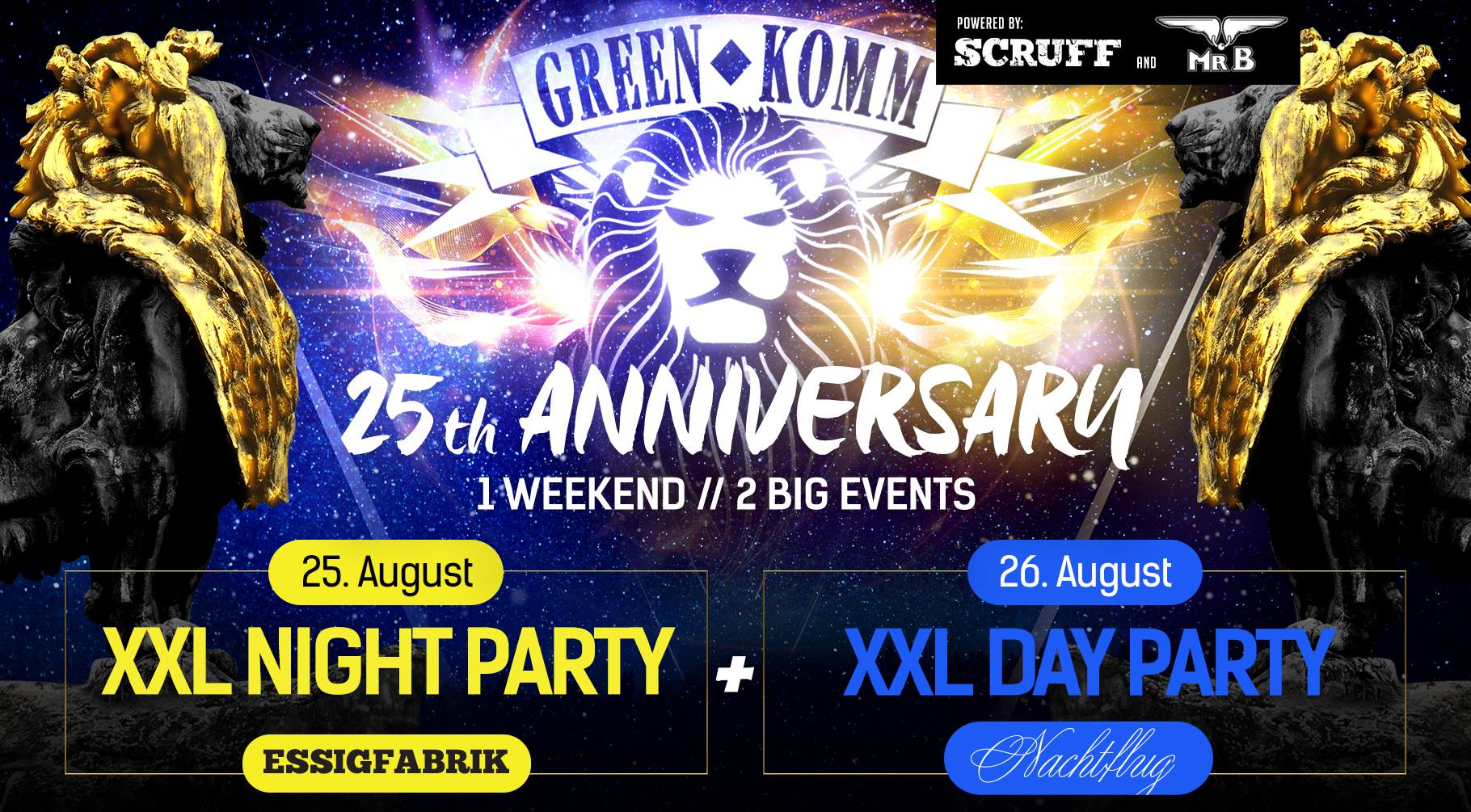 Event Infos

The biggest lion after hour is celebrating its 25th anniversary and we have prepared a very special weekend for you.

GREEN KOMM DAY Nachtflug 06:00 – 20:00
with the following Green Komm Heroes
Chris Bekker
Francesco Pagano
Jon Doe
Mike Jayy
Kiel Nagel
Tezz Mukke
LIGHT SHOW XXL by Dennis Ripp .

HISTORY.
At first some words of the story: The name Green Komm was invented by August Lion Child in 1993 as name for a birthday party of my partner and me. That was my 25th Birthday Party. I had the money, Frank had the music equipment but we had no proper room for that event so we decided to have an open air in the GREEN forest and we wanted everybody to COME = Green Komm. The gods where not on our side and the party drowned in the rain. But everybody was in good mood. We offered a buffet of fresh fruits that helped to forget the rain and the mud we all danced in. It was a great party. Because of the great success many people asked for a further party to follow so we started to plan. I asked Frank to built a tent for the second event and he designed a construction of steel sticks, wooden bars and black plastic foil. The second party was another huge success. During winter we moved to KHD Halls for the third part of GreenKomm and also that party was a great success. Green Komm should write party history at the next location at club Oshos (during the years named: Move club, Visions, H90 today known as Diamonds) . The bigger Green Komm events at the Theatro at Rudolfplatz were also legendary. In May 1997 Frank died and left the Green Komm as a difficult heritage to me. The Visions club was closed twice only hours before a Green Komm event. On New Year´s Eve of 1997 we proved that Green Komm was still alive and had a great party at club Nachtflug. In 2006 Stefan Lenzen joined me as co-organizer and has become an important partner and frind for me. Until today the Green Komm after hour is internationally well known and one of the most popular events in North Rhine-Westphalia with its international and local DJs . Many clubs in Cologne tried to copy the concept of Green Komm but did not succeed The concept at the Green Komm is that everyone must be like he wants. You can wear what you want and with all other celebrating together. At the party is always a special atmosphere and respect. The Green Komm has local and internationally DJ's, sometimes a performance. The only Green Komm is Green Komm ! Nothing else ! Since 24 years.
Location

Essigfabrik

Siegburger Strasse 110